SOFTWARE ENGR IN C
EECS 22L, Course Code: 18020
Quarter: Winter Quarter 2013
---
Home | Syllabus | Projects | Schedule | MessageBoard | Resources | TA Infos | Project1| Project2
---
| | | |
| --- | --- | --- |
| | Image courtesy of http://en.wikipedia.org/wiki/GNU_Chess | Image courtesy of http://susanpolgar.blogspot.com/2010/11/chess-grows-in-popularity.html |
EECS22L Chess Game Tournament Results and Scoreboard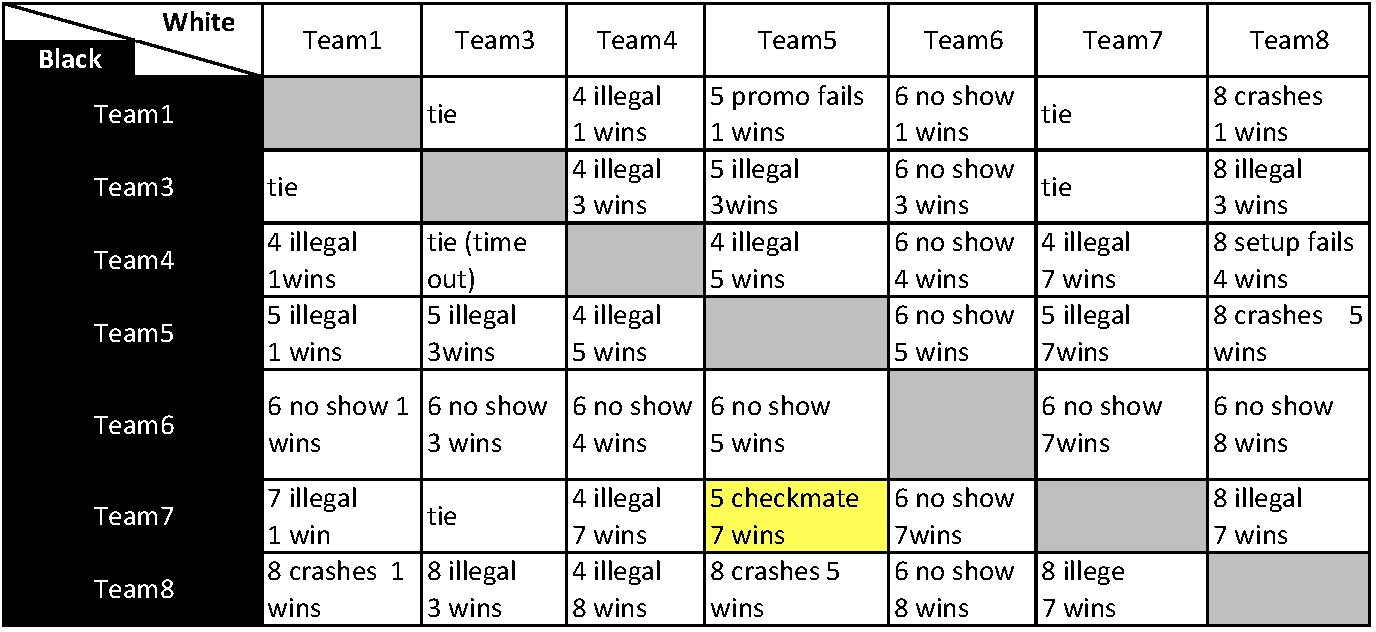 EECS22L Chess Game Tournament

When: 1:00~4:50 pm, Feb.12 (Tue)
Where: EH1141
Rules:

Every team plays their computer twice against all the others
7 rounds, white vs. black and black vs. white
In every round, 6 games are played in parallel
Each team provides 2 program users and 1 observer

computer vs. player + player vs. computer
Program users will feed the program with their opponents' moves
The observer will keep an eye on the time Online Chess Clock

15 minute maximum "thinking" time per player
Each game lasts max. 20 minutes
If a team uses more than 15 minutes, it will lose the game
Games may end in "white wins", "black wins", or "tie"
Opportunity for Extra Credit for the final chess program release:

For each chess game during the tournament, we will provide an incentive of 10 bonus points (attributed to HW5):

For a win by checkmate, the winning team earns 10 bonus points (0 for the loser).
For a tie, both teams earn 5 bonus points.
For an aborted game, e.g. due to illegal move or crash by one team's program, the surviving opponent team receives 5 points (0 for the team at fault).

Do the math! There's a total of 420 bonus points available. The best team can win up to 120 bonus points, but it most likely also pays off to just have a player that makes legal moves.

Team with the highest score is the winner of the tournament

May the best team win!
Team in Exam
Time P.M.
EECS22L Chess Game Tournament Schedule
Team1
Team3
Team4
Team5
Team6
Team7
Team8
Team7
1:00
3
1
6
8
4
Exam
5
Team4
1:30
8
5
Exam
3
7
6
1
Team8
2:00
7
6
5
4
3
1
Exam
Team5
2:30
6
7
8
Exam
1
3
4
Team3
3:00
4
Exam
1
7
8
5
6
Team1
3:30
Exam
4
3
6
5
8
7
Team6
4:00
5
8
7
1
Exam
4
3



Teams
Team1: Bearded Bears

Jeff, Edmond, Brent, Ryan, Michael
(Photograph by Che-Wei Chang)

Team2: (Divorced amicably)


Image courtesy of http://relationshipplaybook.com/2012/10/breakup/

Team3: ChessWorks

Steven, Jonathan, Van-Anh, Davis, David
(Photograph by Che-Wei Chang)

Team4: CHECKMATES

Justin, Joy, Evan, Jonathan
(Photograph by Che-Wei Chang)

Team5: Glasses

Ryan, Allen, Andrew, Emily, Wesley
(Photograph by Che-Wei Chang)

Team6: BlackHorse

Maichi, Aaron, Chou, Edwin, Devin
(Photograph by Che-Wei Chang)

Team7: Pawn$tarZ

Dan, Joshua, Christopher

(Photograph by Che-Wei Chang)

Team8: THAT CompanyTM

Xiaoran, Walter, Christopher, Tim, Tony
(Photograph by Che-Wei Chang)
This webpage is maintained by Weiwei Chen
---